A place travelers can visit Old Town Budva
Reviews: Old Town Budva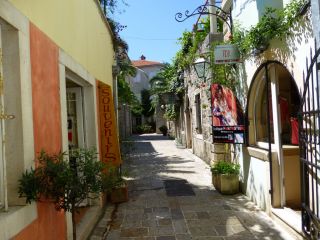 General description: Old Town Budva
The
Old Town in Budva
is the most popular part of this beautiful Montenegrin city. It is situated on a rocky peninsula on the Adriatic, in the southern part of the city. What is the Old Town characterized by are 160 metres long ramparts which used to play a defensive role for Budva and at the same time make it a one massive fortress.
Budva's Old Town is a perfect place for sightseeing enthusiasts. The must-see spots in the area include:


Porta di Terra Ferma – the main city gate

Budva Citadel – its history dates back to 5th century BC, it was however demolished and rebuilt many times. Now, tourists can find a gallery inside.

St. Ivan church

Santa Maria in Punta church

The Holy Trinity church

The Old Town in Budva is also known for its charming narrow streets and several small squares, all surrounded by bars, cafes and restaurants. Even though the city was strongly affected by the earthquake in 1978 and it took eight years of works to rebuild it, now the Old Town looks as beautiful as before, and is a perfect spot for as well sightseeing, as lazy strolls in the sun.
---
Hotels nearby
1.1 km away
---
1.3 km away
---
1.4 km away
---