A place travelers can visit Iguazu Falls
Reviews: Iguazu Falls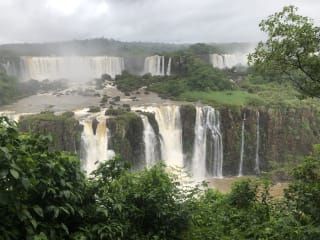 General description: Iguazu Falls
Unfortunately, "Iguazu Falls" does not yet have a general description. Your valuable travel experience is needed. Help other guests by providing objective and detailed information.
13 reviews Iguazu Falls
Waterfalls Iguazu
... from the busterminal in Pd. Iguazu . You can explore the whole area by yourself. You get a map when you enter the park. I booked two tour with Jungel as well."Great Adventure" and "Ecological Trip." If you book the same tours, the Great Adventure will start at 10.30. I would recomend to start before with "the lower trail". As you are early (Be) , there wont be a lot of people and you therefore will see more animals. Take your time, its hignly impresive. Come back and take the 10.30 tour. The first part with the truck was not that sp...
Read more
---
Hotels nearby
7.9 km away
---
12.8 km away
---
15.9 km away
---