A place travelers can visit Alcatraz Island
Reviews: Alcatraz Island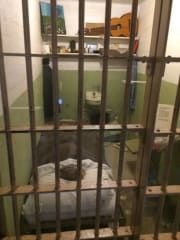 General description: Alcatraz Island
Alcatraz Island
also known as
The Rock
or
Traz
is a small island located in the San Francisco Bay just offshore from San Fransisco.
Military, American Indians & Nature
It has been used by the military as well as American Indian activists and has been used as a national recreation area since 1972. In 1986 it was designated a National Historic Landmark. Visitors come here to see American Military Prison history, to hear the stories of the American Indian occupation and to experience the natural beauty the island has to offer.
Visiting Alcatraz Island
Alcatraz Island is reached by boat, operated by Alcatraz cruises. The hours of operation depend on season but start at 9am. in the summer months tours can sell out well in advance so it can be advisable to book in advance.
Open daily except; Thanksgiving & Christmas Day
Admission
Entrance to The Rock is free but the ferry charges a fee:
Adult: $26
Child (5-11): $16
Senior (62+): $24.50
Family: $79


Websites: http://www.nps.gov/alca/index.htm, http://www.alcatrazcruises.com/
---
67 reviews Alcatraz Island
Alcatraz Island
Kind of spooky and gloomy from my wife, I thought is was a little spooky, would definitely be at night. Good show of how the criminals lived and played as they waited out there sentence. Forbidding place. Lots of uphill walking to get to the prison itself. Was a good tour though, gave you earphones and audio to walk around and tell you what happen there and how they lived.
Read more
---
A piece of history
Visiting Alcatraz Island with Alcatraz Cruises night tour is a grand experience. Reserve your tickets several months before trip. Night tour is lovely because you see San Francisco lights in the evening on your way back to port. Later go and visit Pier 39. Remember Alcatraz Cruises are the only ones that take you to the Island.
Read more
---
Iconic place - must see!
... system – in fact very well organized, so You can't miss any of thrilling Alcatraz stories. You go through all areas of this prison, and experience bit of life of inmate during that times. So close to San Francisco downtown, but in fact so far....
Read more
---
Hotels nearby
100% recommendation
2.2 km away
Guests praise:
Size of the rooms, good room amenities, good position for excursions, Condition of the Hotel, size of the bathroom
---
2.2 km away
---
2.2 km away
---