A place travelers can visit Basilica of Notre-Dame de Fourvière
Reviews: Basilica of Notre-Dame de Fourvière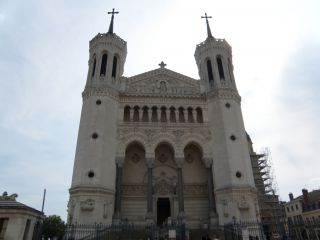 General description: Basilica of Notre-Dame de Fourvière
La Basilique Notre-Dame de Fourviere
is a basilica in Lyon. It was built with private capital between 1872 and 1896 in a prominent position as a symbol thanking God for their victory over the socialists.
Building the Basilica
The basilica was designed by Pierre Bossan incorporating both Roman and Byzantine architecture. this was an unusual choice at the time as most buildings were in the Gothic style.
The basilica receives approximately 1.5 million visitors per year.
Festival of Lights
The Basilica towers over the town from the top of the hill Fourvière. Every year in December the "Fete des Light" (Festival of Lights) takes place. Where among other things the basilica is artistically illuminated.
Funicular railway
You can travel up the granite hill which was the old site of the Roman town 175 m above the banks of the Saône with the cable railway.
Address
Place de Fourvière
69005 Lyon
Contact Details
Telephone: +33 4 78255182


More information can be found on the website: http://www.fourviere.org/fr_FR/index.php

---
Hotels nearby
0.5 km away
---
0.6 km away
---
0.9 km away
---