A place travelers can visit Ginza shopping district
Reviews: Ginza shopping district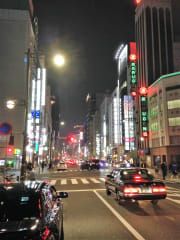 There are
no reviews
for Ginza shopping district yet.
Be the first person to review Ginza shopping district and give other users a hand!
General description: Ginza shopping district
Ginza
is Tokyo's equivalent to New York's 5th Avenue and London's Oxford street. It is designer heaven and home to many department stores and numerous fashion houses and flagship stores.
The development of Ginza
Ginza got its name from the silver coin mint that was established there during the Edo period in 1612. Since then it has developed into a haven of western luxury shops and attracts crowds from far and wide, especially on weekends when the main road is closed to vehicle traffic.
Ginza shopping
It is an expensive, upmarket place. It is said that one square meter of land in the center is worth over 10 million yen and cups of coffee can cost up to $10. This also draws the high end designer labels including Dior, Channel, Gucci and Louis Vuitton. Sony and Apple also have flagship stores here.


Shops in Ginza are open everyday. Between 2 - 5pm on Saturdays and 12 - 5pm on Sundays the main Chuo Dori street is closed and pedestrians have free reign!

---
1 Pictures: Ginza shopping district
Ginza shopping district
by Robert
in February 10
Hotels nearby
0.3 km away
---
100% recommendation
0.5 km away
Guests praise:
room cleanliness, general cleanliness, shopping facilities in the area, friendly staff, good knowledge of foreign languages
---
0.5 km away
---