A place travelers can visit Guide Frank Hopfe Rio de Janeiro Excursion
Reviews: Guide Frank Hopfe Rio de Janeiro Excursion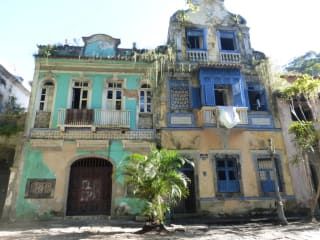 General description: Guide Frank Hopfe Rio de Janeiro Excursion
Unfortunately, "Guide Frank Hopfe Rio de Janeiro Excursion" does not yet have a general description. Your valuable travel experience is needed. Help other guests by providing objective and detailed information.
6 Pictures: Guide Frank Hopfe Rio de Janeiro Excursion
---
---
---
More Pictures
56 reviews Guide Frank Hopfe Rio de Janeiro Excursion
Frank Hopfe is a must as your guide for Rio
E-mail contact with Frank before we left home in Germany was no problem. We told him what we wanted to see in Rio and he wrote back quickly, made his own suggestions and we felt comfortable with him from the very first contact. He was always on time, had a lot of interesting information about what we were seeing and told us things we would never hava found in any travel books. You can ask him anything - there is nothing he won't talk about if it has to do with Brazil. He gives little tips while you are driving or walking around - where t...
Read more
Elizabeth Sroka, Age 66-70
---
Tour von Buzios nach Rio de Janeiro
Frank holte uns am frühen Morgen in Buzios ab und fuhr uns nach Rio de Janeiro. Unterwegs erklärte er uns die durchquerten Dörfer. Trotz schlecht em Wetter hatte Frank einige Ideen: Treppe von Selaron, Santa Teresa, Copacabana, Urca Viertel, Regenwald, Gemütliches brasilianisches Mittagessen und ein Einblick in die Rozinha. Wir erlebten einen super interessanten Tag, mit vielen Eindrücken von der cidade maravilhosa, und kehrten gegen Abend zufrieden nach Buzios zurück. Es war ein tollen Tag. Wir wären gerne länger mit Frank unterwegs gewesen.
Read more
---
Hotels nearby
0.1 km away
---
0.2 km away
---
0.3 km away
---