A place travelers can visit Jerasch
Reviews: Jerasch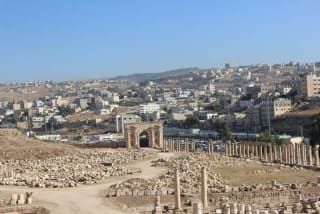 General description: Jerasch
Jerash
is a city located in northwestern Jordan. It is an administrative center of the muhafazah (governorate) of the same name. It lies approximately 50 km north of Amman.
The city was probably founded in the fourth century BC by Alexander the Great or his general Perdiccas. The ruins of the town were discovered in 1806 by Ulrich Seetzen.
Archaeological site in Jerash includes one of the best preserved ruins of an ancient Roman city in the world. The most important sights include:


Temple of Artemis

Temple of Zeus

Two Roman theaters

The Hippodrome

The Forum

Roman baths

Nymphaeum

Ruins of five Christian churches

In July each year, the Jerash Festival of Culture and Arts takes place in the city, bringing together artists from all over the world.
---