A place travelers can visit El Gaucho Steak House
Reviews: El Gaucho Steak House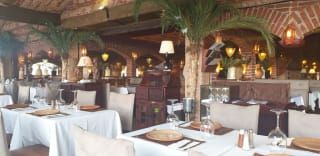 General description: El Gaucho Steak House
Unfortunately, "El Gaucho Steak House" does not yet have a general description. Your valuable travel experience is needed. Help other guests by providing objective and detailed information.
10 reviews El Gaucho Steak House
Lovely place to eat
Visited 30th Nov 2011 food and service was amazing. We stayed at Dunas Mirador all inclusive so wanted a change.
Read more
---
A must visit!
food was excellent steaks were top dollar, including the service, me my husband and daughter were half board at buenavetura but loved coming here a few nights a week out of our fortnight stay, the service was very good very friendly staff well worth tipping, a very friendly atmosphere will defenately be coming here again when we come for a holiday in 2012 you can acctually see your food being cooked aswell
Read more
---
Hotels nearby
88% recommendation
0.1 km away
Guests praise:
shopping facilities in the area, entertainment in the area, good position for excursions, smooth check-in/check-out, friendly staff
---
96% recommendation
0.1 km away
Guests praise:
Size of the rooms, smooth check-in/check-out, friendly staff, good knowledge of foreign languages, professional staff
---
0.1 km away
---