A place travelers can visit Freeport Gold Rock Beach
Reviews: Freeport Gold Rock Beach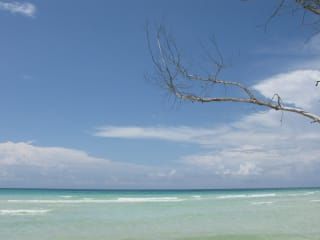 General description: Freeport Gold Rock Beach
Gold Rock Beach
Gold Rock Beach is located on the Caribbean island Bahamas.

Gold Rock Beach is part of the Lucayan National Park and is protected by the National Trust and is located east of the Island (25 miles from Freeport).

To get to this beach you need to pass through a mangrove area to then end up at a beautiful beach. Like you would imagine and Caribbean beach, it has white sand, blue water and green palm trees.

There are no lounge chairs or other things to purchase. There are, however, BBQ pits, picnic tables and benches.

The Pirates of the Caribbean was filmed at this location. This shows just how beautiful and popular this beach is. And yet, it is oftentimes empty because you cannot reach it with public transportation.

Climate
Thanks to the trade winds, the island has a warm climate throughout the entire year. The coolest time is between September andMay, when the average is 70-75 Fahrenheit. The other months are a bit warmer,with temperatures between 80 and 90 Fahrenheit.
---