A place travelers can visit Santiago Bernabéu Stadium
Reviews: Santiago Bernabéu Stadium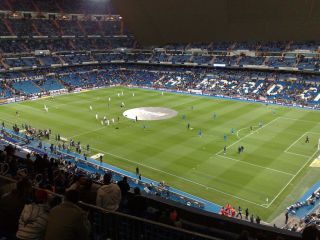 General description: Santiago Bernabéu Stadium
The
Santiago Bernabeu Stadium
is the home of
Real Madrid
. Madrid's Football team.
Football Fan Fantastic
Real Madrid's stadium was officially opened in 1947 and has undergone renovation several times since then. It can now hold around 75,000 spectators. It also houses the Sala de Trofeos with its impressive collection of championship trophies.
Visiting the Santiago Bernabeu Stadium
Opening Hours

Monday - Saturday: 10:00 - 19:30
Sundays & holidays: 10:30 - 18:30
Different on Match Days.
Admission
General Public
Children under 14: €11
Adults: €16
Madridista Fan Club Members
Children under 14: €8
Adults: €11
Group and school discounts available


Official website: http://www.realmadrid.com/cs/Satellite/en/Home.htm

---
24 reviews Santiago Bernabéu Stadium
The place to be for soccer fans
I'm not a huge Real Madrid fan, but I was amazed while touring the stadium and learning the history of the team. You can definitely feel the energy of the team and fans as you look at the panorama of the huge stadium. I booked my tour with Musement (www. musement. com) and even got a peek at behind the scenes in the locker room!
Read more
---
Hotels nearby
100% recommendation
0.5 km away
Guests praise:
good position for excursions, general cleanliness, room cleanliness, varied food, entertainment in the area
---
89% recommendation
0.6 km away
Guests praise:
Size of the rooms, cleanliness in restaurant, size of the bathroom, room cleanliness, good position for excursions
---
0.6 km away
---