A place travelers can visit Status Nightclub
Reviews: Status Nightclub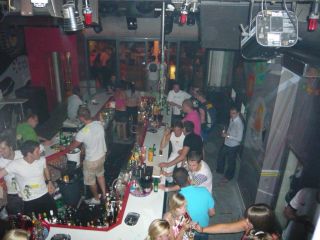 General description: Status Nightclub
Status Club
is located in Chersonissos on the north coast of the Greek island of Crete. It is one of the oldest nightclubs in the town, as the opening took place more than twenty years ago.
Status Club
is very popular among tourists and is by many considered to be one of the must-go places in Chersonissos.
Status Club
is perfect for wild party-goers, however, not only for them. Besides of a large dance floor area with a live DJ, there is also a terrace in the
Status Club
, providing a beautiful view of the sea and the beach. One can therefore choose either to have a nightlong dance party or a laid-back evening sipping cocktails.
The menu of the
Status Club
includes a wide range of beers, cocktails and other alcoholic beverages.
Status Club
Agias Paraskevis 47
Chersonissos
Iraklion, Crete
Greece
---
1 Pictures: Status Nightclub
Status Nightclub
by Peter
in July 08
Picture rating: 2.0
Hotels nearby
82% recommendation
0.1 km away
---
0.3 km away
---
78% recommendation
0.4 km away
Guests praise:
entertainment in the area, Proximity to the beach, shopping facilities in the area, good position for excursions, smooth check-in/check-out
---