A place travelers can visit Valle de los Ingenios
Reviews: Valle de los Ingenios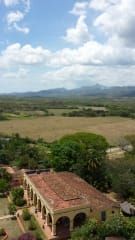 General description: Valle de los Ingenios
Unfortunately, "Valle de los Ingenios" does not yet have a general description. Your valuable travel experience is needed. Help other guests by providing objective and detailed information.
15 reviews Valle de los Ingenios
Sugar and slaves - a fascinating history
The train wasn't operating that day, but the Casa Particular arranged a taxi driver at a very reasonable price. The view of the former sugar plantations from the lookout tower was incredible (although one must note that this was originally a watchtower to monitor the poor slaves who once worked on them). Drive to one of the former sugar refineries - they are like ghost towns; fascinating monuments to Cuba's leap towards industrialisation, deserted since the revolution.
Read more
---
Hotels nearby