A place travelers can visit Miniature Wonderland Hamburg
Reviews: Miniature Wonderland Hamburg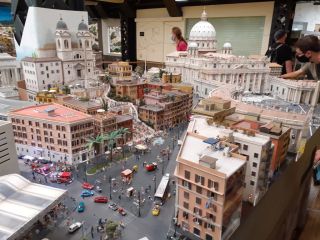 General description: Miniature Wonderland Hamburg
Miniature Wonderland Hamburg
, the world's largest miniature railway. It covers 1,300 square meters with 13 km of miniature track. It is constantly evolving and will reach completion in 2020 when it will cover over 2,300 square meters.
Watch the day and night in the life of the miniatures all in an hour
It is the dream of every model enthusiast or grown up child who still remembers there toy railway. It is also enjoyable for those who never touched a train as the intricate detail is incredible. The museum runs more than 1,000 trains with 15,000 wagons along 10,000 meters of track past 150,000 trees and 150,000 houses watched by 5000 figures. A day lasts 30 minutes and you can experience the whole miniature city during both the day and night. There is even a simulated sunrise and sunset.
Visiting the Miniature Wunderland
Open Daily 9:30am - 6pm (minimum, often longer)
Admission
Adults: €12
Children (under 16): €6
Students: €9
Group and other discounts available.
There can be long queues. To avoid them you can check online to see there estimated waiting times or book online to skip the queues.
The website is: http://www.miniatur-wunderland.com/
Address
Miniatur Wunderland Hamburg
Kehrwieder 2-4,
Block D 20457 Hamburg – Speicherstadt
Miniature Wunderland is in the Speicherstadt next to the river Elbe. The nearest station is Hauptbahnhof (Central station).


Great day out for the whole family

---
Hotels nearby
98% recommendation
0.5 km away
Guests praise:
room cleanliness, good knowledge of foreign languages, general cleanliness, Condition of the Hotel, friendly staff
---
100% recommendation
0.6 km away
Guests praise:
Size of the rooms, good knowledge of foreign languages, friendly staff, good room amenities, room cleanliness
---
91% recommendation
0.7 km away
Guests praise:
good position for excursions, shopping facilities in the area, Size of the rooms, entertainment in the area, smooth check-in/check-out
---