A place travelers can visit Mayan ruins Coba
Reviews: Mayan ruins Coba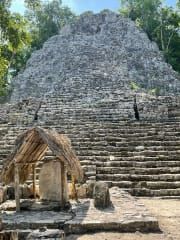 General description: Mayan ruins Coba
Coba, the trade and ceremonial city of the Maya, is located 50km northwest of Tulum surrounded by lakes.

History of Coba
Coba was built between 600 and 900AD. This is where many Sacbe have their starting point. The Sacbe are "white ways" which connect important sites. They were not only used for trade and communication, but also had religious meaning. The longer ones were over 100km. The roads have long stopped serving their original purpose and the jungle has claimed much of Coba. Hidden within the jungle it is estimated that there are around another 600 buildings still to be found.

Visiting the Pyramid of Nohoch Mul
The main Pyramid in Nohoch Mul is located 1.5km north of Coba. From the top of the 42m high Pyramid you get an unparalleled view of the site, lakes and jungle if you are up for the steep climb. It is like a giant staircase up a mountain.
---