A place travelers can visit Djerba Explore Park
Reviews: Djerba Explore Park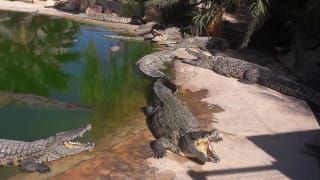 General description: Djerba Explore Park
Djerba Explore Park
is a tourist complex located on the Tunisian island of Djerba. This unique project is dedicated to cultivate knowledge about Djerbian heritage, culture and art. Djerba Explore Park is situated in the middle of the Midoun tourist area.
There are few separated parts of Djerba Explore Park, each one designed with a different purpose.
The village is an artificially created place, functioning as a regular little town, with many shops, cafes, restaurants. The architecture is a mixture of different typical for the island styles.

Laila Handra Museum with its collection of more than 1000 pieces representing Tunisian and Islamic art is the richest collection in whole Tunisia.

The Crocodile Island is the biggest crocodile farm within the Mediterranean area. About 400 representatives of Nile crocodiles live there in open for visitors artificial ponds and a tropical greenhouse.

Djerbian Heritage Conservatory is a place dedicated to traditional activities as pottery, weaving and olive oil production. All the visitors can not only observe those processes but also be a part of them. There, one can also walk around a typical Djerbian dwelling, called houch, to discover traditional building techniques of the islanders.

Hotel Explore is an accommodation spot right in the Park offering many rooms, a swimming pool and beautiful gardens. It is located near few beaches and is a perfect place for a holiday stay.

Park Djerba Explore
Route touristique de Midoun
BP 353
4116 Midoun
Tunisia
www.djerbaexplore.com
---
Hotels nearby
83% recommendation
0.4 km away
Guests praise:
Proximity to the beach, child friendliness, beautiful beach, room cleanliness, size of the bathroom
---
92% recommendation
0.5 km away
Guests praise:
Proximity to the beach, good knowledge of foreign languages, friendly staff, child friendliness, family-friendly
---
86% recommendation
0.9 km away
Guests praise:
Proximity to the beach, Size of the rooms, good room amenities, beautiful beach, nice swimming pool
---