A place travelers can visit Bardo Museum Tunis
Reviews: Bardo Museum Tunis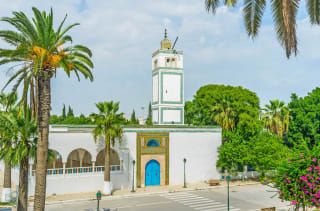 General description: Bardo Museum Tunis
Bardo Museum
(also known as The National Bardo Museum) is one of the main attractions of Tunis. It is one of the most important archaeological museums not only in the Mediterranean area, but also in the world.
Bardo Museum
is mostly famous for its huge collection of mosaics.
Mosaics displayed in
Bardo Museum
were brought from almost every corner of Tunisia. The majority come from the time of the reign of the Romans and the Byzantine Empire. Mosaics can be found on the walls and floors and they mainly depict the everyday life of the ancient inhabitants of the area, the scenes of Greek and Roman mythology, as well as numerous animal motifs. Many of the mosaics remained intact. The most famous of them are: Virgil accompanied by two muses, Ulysses with the sirens, Perseus rescuing Andromeda from the sea monster or Daniel in the lion's den.
In addition to the mosaics numerous other exhibits can be seen in
Bardo Museum
such as sarcophagi, pots, stelae, masks and more. Everything is arranged chronologically, dating back to the seventh century BC.
Bardo Museum
is housed in a palace that was once inhabited by the beys. Currently, the building also houses the Tunisian Parliament.
Useful information


For a small fee, photographing is available

The closest metro station is Le Bardo

Bardo Museum Tunis
Rue Nationale 7
2000 Tunis
Tunisia
---
Hotels nearby
3.5 km away
---
4.2 km away
---
4.4 km away
---