A place travelers can visit Vinales Valley
Reviews: Vinales Valley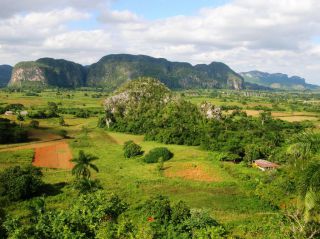 General description: Vinales Valley
The Viñales Valley is a Valley located in the West part of Cuba, near the town of Viñales in the Pinar del Río province. It is a region with a long story with tobacco growing. In 1999, the cultural landscape of Viñales Valley was added on the official list of world heritage of UNESCO.

The Valley has a very rare geological feature throughout its mogotes and its mountainous mounds of limestone. These natural formations are full of caves, of which some have become a real touristic attraction, for example, the Cueva del Indio. The Viñales Valley has been formed millions of years ago, at a time where dinosaurs still reigned on Earth.

Currently, the region is covered with vegetation. The panoramic view offered to us by the Viñales Valley is breathtaking.
---