A place travelers can visit St. Mary's Church Mosta
Reviews: St. Mary's Church Mosta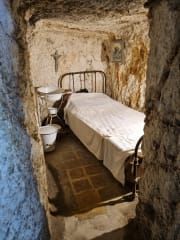 General description: St. Mary's Church Mosta
Unfortunately, "St. Mary's Church Mosta" does not yet have a general description. Your valuable travel experience is needed. Help other guests by providing objective and detailed information.
6 reviews St. Mary's Church Mosta
Have to see with your own eyes
Monumental would be the word if this place wouldn't be al-ready a monument. What can I say you have see it with your own it is spectacular , if are in Malta don't miss seing the world's 3rd largest unssuported dome in the world. Also ask the guide about the WW II bomb that came through the dome but never exploded.
Read more
---
Hotels nearby
2.6 km away
---
3.4 km away
---
88% recommendation
4.3 km away
Guests praise:
smooth check-in/check-out, good position for excursions, friendly staff, good room amenities, Size of the rooms
---