A place travelers can visit Bill Wyman's Sticky Fingers Restaurant
Reviews: Bill Wyman's Sticky Fingers Restaurant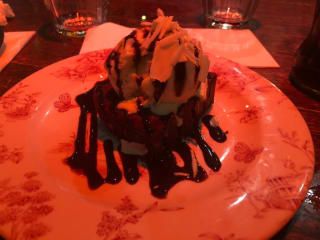 General description: Bill Wyman's Sticky Fingers Restaurant
Bill Wyman's Sticky Fingers Restaurant
is an exceptional dining venue that can be found in London. The place specializes in American cuisine but additionally it is a steakhouse and a bar with hamburgers.
The place will be ideal for those who love simplicity that can be found in extremely filling dishes. Most of the main courses consist of grilled meat with side dishes as well as various dips and sauces which are specially prepared to enrich the taste of the juicy main product.
The interior is very pleasing to the eye. The most important element which can be easily spotted right from the entrance is the large collection of vinyl records. What is more, there is a large collection of photographs and images of celebrities connected with rock music as well as rock'n'roll and jazz.
1a Phillimore Gardens | Kensington Court, London W8 7QB, England
44 20 7938 5338
www.stickyfingers.co.uk
---
5 Pictures: Bill Wyman's Sticky Fingers Restaurant
---
---
Hotels nearby
0.1 km away
---
94% recommendation
0.6 km away
Guests praise:
smooth check-in/check-out, good knowledge of foreign languages, friendly staff, entertainment in the area, cleanliness in restaurant
---
0.6 km away
---