A place travelers can visit Golden Gate Bridge
Reviews: Golden Gate Bridge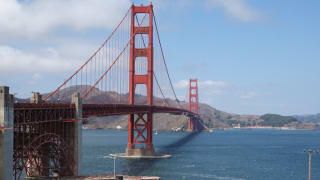 General description: Golden Gate Bridge
Many believe the
Golden Gate Bridge
to be one of the world's most beautiful bridges and it draws an estimated nine million visitors annually.
Golden Gate Bridge - Icon of the USA
The suspension bridge gets its name from the Golden Gate which it spans. The Golden Gate is where the San Fransisco Bay opens into the Pacific Ocean. The Bridge is on the famous US Route 101 and the Californian State Route 1 and is one of the symbols and icons of California and the United States of America.
Crossing the Golden Gate Bridge
Pedestrians, Bikes and Wheelchairs are allowed to cross the bridge's sidewalks during daylight hours. Animals, other than service animals, are not allowed.
Pedestrian Access
The sidewalk is open 365 days a year. In Winter gates are open from 5am - 6pm in Summer 5am - 9pm.
Bicycle Access
Cyclists have access to the sidewalks 24 hours a day.
Toll
Pedestrians and cyclists do not need to pay a toll. Car toll depends on number of Axcels and ranges from $6 for 2-Axcles to $31 for 7-Axels or more.


Official website: http://goldengatebridge.org

---
47 reviews Golden Gate Bridge
Golden Gate Bridge
Seen the bridge 4 times while I was there. Once with a tour of Muir woods and twice on the hop on hop off tour, and once from the water while on a tour. Its a really good bridge and had to tell the tour guide that the mackinaw bridge was longer though...lol Got a really good history of the bridge, you can get off before you go over the bridge and walk around and get pictures. If you go across they stop up on the hill above the bridge and you can get pictures there as well.
Read more
---
Golden Wonder
Had to take a cab to cross the Bridge cause we had little time left before leaving SF. Great view from the other side. Thankfully we had a sunny day.
Read more
---
Hotels nearby
2.1 km away
---
3.7 km away
---
3.7 km away
---