A place travelers can visit Koh Nangyuan / Koh Nang Yuan Island
Reviews: Koh Nangyuan / Koh Nang Yuan Island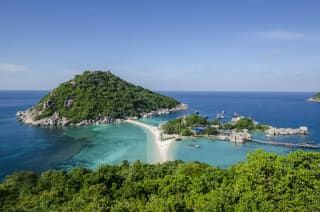 General description: Koh Nangyuan / Koh Nang Yuan Island
Koh Nangyuan
is a small island located only 400 metres away from the coast of the island of Koh Tao, Thailand. It is famous for its beautiful landscape and two beaches with crystal-clear azure waters. It is a popular destination for day-trips.
Koh Nangyuan
consists in fact of three islands connected by a narrow sandy beach (disappearing under the water during the high tide), surrounded by water on both sides. The waters of
Koh Nangyuan
are full of colorful coral reefs and abundant marine life, making it a great place for snorkeling and diving. Therei s also a vantage point on one of the island's hills.
The island can be reached only by boat from Koh Tao, Koh Pha Ngan and Koh Samui.
Note


There is a traffic ban on the whole island – the only way to get around is by walking

Plastic bottles and cans are also banned

---
Hotels nearby
2.3 km away
---
2.7 km away
---
2.7 km away
---