A place travelers can visit Oasis Bar
Reviews: Oasis Bar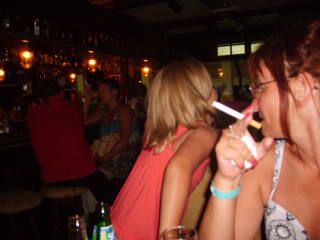 General description: Oasis Bar
Unfortunately, "Oasis Bar" does not yet have a general description. Your valuable travel experience is needed. Help other guests by providing objective and detailed information.
10 reviews Oasis Bar
Atmospheric
Have known the Oasis Bar for many years. It's had its ups and downs but the panelled bar, good company and older music keeps drawing us back. Beer and cocktails slip down nicely. Images of music icons of all ages are morrored on the walls. Good bands in the evenings sometimes. Dance on the walkway if there's no room in the bar!
Read more
---
Hotels nearby
88% recommendation
0.1 km away
Guests praise:
beautiful beach, shopping facilities in the area, Proximity to the beach, entertainment in the area, good position for excursions
---
81% recommendation
0.2 km away
Guests praise:
beautiful beach, shopping facilities in the area, Proximity to the beach, entertainment in the area, smooth check-in/check-out
---
81% recommendation
0.3 km away
Guests praise:
beautiful beach, shopping facilities in the area, entertainment in the area, good position for excursions, Proximity to the beach
---