A place travelers can visit Calle Fuencarral
Reviews: Calle Fuencarral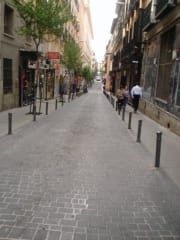 General description: Calle Fuencarral
Feuncarral
is one of Madrid's neighborhoods which is well known for it's great shopping and being the hub of modern fashion.
Shopping in Fuencarral
Brands you'll find include Diesel, Custo Barcelona, Puma, Levi's, Addidas etc. There are also plenty of original boutiques to peruse and loads of shoe shops. The Mercardo Fuencarral stands in the middle of the district and attracts the funky fashion types. Around Fuencarral you can find streets with second hand shops, skate shops and trendy new comers. This is the place for trendy funky fashion. If you are looking for couture, head to Salamanca.


Mercardo Fuencarral website: http://www.mdf.es/
---
1 Pictures: Calle Fuencarral
Calle Fuencarral
by Ramona
in May 09
Hotels nearby
0.3 km away
---
94% recommendation
0.4 km away
Guests praise:
good position for excursions, cleanliness in restaurant, varied food, general cleanliness, good food
---
0.4 km away
---