A place travelers can visit Schafbergbahn Railway
Reviews: Schafbergbahn Railway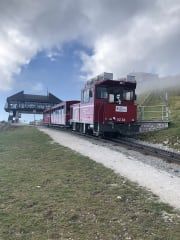 General description: Schafbergbahn Railway
SCHAFBERGBAHN
Full steam ahead to the summit
The SchafberBahn is the steepest cogwheel railway in Austria. Since 1893 mighty steam locomotives have powered their way from the lake-side base station at St.Wolfgang to the 1783 m high summit of the Schafberg. The SchafbergBahn allows every visitor to conquer the mountain in comfort and style, making the entire journey an unforgettable experience!
Once at the top, magnificent Alpine views and warm Austrian hospitality beckon. Visit the Hotel Schafbergspitze, Austria'soldest mountain inn, originally dating from 1862!
To make sure you have a seat at the desired time, a reservation is required! Tel.: 06138/2232-0,
berg.schiff@schafbergbahn.at
Please check out the timetable before buying the ticket!
www.schafbergbahn.at
---
Hotels nearby
3.2 km away
---
95% recommendation
3.5 km away
Guests praise:
good knowledge of foreign languages, friendly staff, smooth check-in/check-out, cleanliness in restaurant, room cleanliness
---
3.6 km away
---