A place travelers can visit Scheveningen Beach Promenade
Reviews: Scheveningen Beach Promenade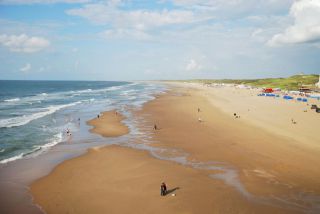 General description: Scheveningen Beach Promenade
The
Scheveningen Beach
is the strip of golden sand which stands between The Hague and the North Sea in the Netherlands. It is divided into different areas.
The
Boulevard Beach
, which is home to the Pier and the Boulevard, is the most famous stretch of beach. There are many restaurants and and bars as well as the Kurhaus Museum and plenty of shopping. It can get very busy in the summer months but in the winter it is calm and peaceful again.
The
Harbour Beach
by the Scheveningen Harbor is the place to go for water sports fans and surfers. It is not such a tourist magnate and the atmosphere is more relaxed and easy going. Surfing lessons and beach volley ball competitions take place here in the summer.
The
Northern Beach
also known as the Zwarte Pad is where the beach parties take place. During the day you will find people lounging on the beach with cocktails and at night dancing at the beach clubs. During the winter months it is a lovely place to go for a walk.
The
Nude Beach
is situated next to the Zwarte Pad. There are two beach clubs located on the nudist beach but it is not a place of party party party but rather somewhere to come for freedom, serenity and peace. The beach is clearly marked between poles 98.0 and 96.5. this is the only place on the beach where you are allowed to be fully naked.


For all further information about the beaches in Scheveningen see: http://scheveningenbeach.com/en

---
10 reviews Scheveningen Beach Promenade
A great place to eat ice cream
While in The Hague I like to pop out to the beach to feel the sand between my toes, go paddling and eat ice cream. It's a really nice beach and in the Autumn, Winter and Spring not very busy. I haven't been there in the Summer but I can imagine it getting quite full. It's just a tram ride from the city center but you feel like you're on holiday somewhere far away. It's a great place to go for a little relaxation!
Read more
---
Hotels nearby
0.3 km away
---
0.3 km away
---
0.4 km away
---