A place travelers can visit Sand-Beach Gouves Crete
Reviews: Sand-Beach Gouves Crete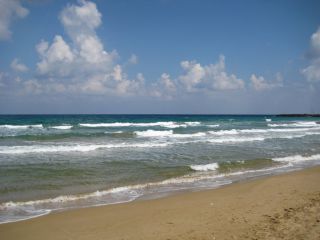 General description: Sand-Beach Gouves Crete
Unfortunately, "Sand-Beach Gouves Crete" does not yet have a general description. Your valuable travel experience is needed. Help other guests by providing objective and detailed information.
5 reviews Sand-Beach Gouves Crete
Family Vacation in Gouves, Crete
Me and my family went on a family vacation to Crete this year. We had a wonderfull time. The weather was very good ( we was in early september ), the beach was nice, there are a lot of tavernas, where you can eat, drink..
Read more
---
Hotels nearby
0.6 km away
---
87% recommendation
0.8 km away
Guests praise:
friendly staff, good knowledge of foreign languages, family-friendly, cleanliness in restaurant, nice swimming pool
---
91% recommendation
0.9 km away
Guests praise:
smooth check-in/check-out, nice swimming pool, good knowledge of foreign languages, professional staff, friendly staff
---