A place travelers can visit Sand-Beach Gouves Crete
Reviews: Sand-Beach Gouves Crete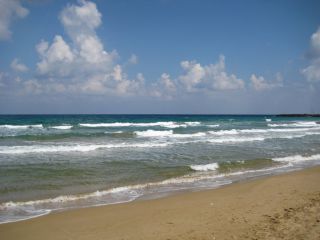 General description: Sand-Beach Gouves Crete
Gouves Beach
is a small strip of sand which is very well-organized. Therefore, there is not enough space to stretch one's own towel. The visitors are compelled to pay a certain amount of money, in order to use the tourists amenities.
At the beachfront there are various places where the visitors can dine and drink a refreshing drink. In the near vicinity there exist numerous holtes – one of them, Marina Hotel, tenders a vista on this particular beach, therefore the visitors will be able to spend almost all day on the beach.
The place is very safe for children with a large strip of shallow water. The place is very popular among the international tourists as well as local residents alike.
Important information:


It would be best to reach the beach before 10 am – after that time the place gets extremely crowded.

The best pictures can be taken around 8 am – there is the smallest number of people on the beach at that time.

The place faces north, which means that the sea becomes rough and windy.

---
5 reviews Sand-Beach Gouves Crete
Family Vacation in Gouves, Crete
Me and my family went on a family vacation to Crete this year. We had a wonderfull time. The weather was very good ( we was in early september ), the beach was nice, there are a lot of tavernas, where you can eat, drink..
Read more
---
Hotels nearby
0.6 km away
---
89% recommendation
0.8 km away
Guests praise:
good knowledge of foreign languages, friendly staff, family-friendly, smooth check-in/check-out, nice swimming pool
---
95% recommendation
0.9 km away
Guests praise:
nice swimming pool, Proximity to the beach, friendly staff, good knowledge of foreign languages, Condition of the Hotel
---