A place travelers can visit Athen National Archaeological Museum
Reviews: Athen National Archaeological Museum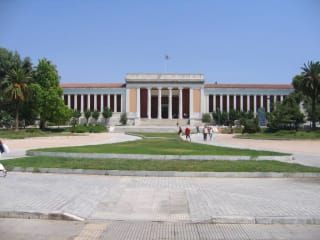 General description: Athen National Archaeological Museum
The National Archaeological Museum
in Athens is the largest of its kind in Greece and is respected as one of the great museums in the world. It has the most in depth collection of Ancient Greek artifacts worldwide.
Let yourself be enthralled by the combination of the physical objects and the rich stories and history, woven together to take you back to Ancient Greece and civilization, which helped shape who we are today.
Exhibits include:


The Golden Death Mask / Mask of Agamemnon

The Boy Jockey

Artemisium Bronze (either Zeus or Poseidon)

The Antikythera Ephebe – statue of youth

Museum Information


Opening times: Vary throughout the year. Check the official website
Entrance fee: 7 €, (3 € for EU senior citizens & non EU students, Free for EU students & people under 19 yrs)

Transport: 5 minutes from Victoria and 10 minutes from Omonoia metro stations. Bus no. 224, 226.

Address: 44 Patission St., Athens
More information: www.namuseum.gr, http://odysseus.culture.gr/h/1/eh155.jsp?obj_id=3249

---
16 reviews Athen National Archaeological Museum
An absolutely must in Athens!
... but the collection in the National Archeological Museum of Athen s is just breathtaking. Beginning this Cycladic scultures that are more that 4000 years old and semm like modern art, the gold treasure of troja and the wonderful collection of sculptures that leads you through the archaic, classical and hellenistic period of greek art. Just to name one of the few highlights. The statue of Zeus (or Poseidon) found at Cap Artemis at the north end of Euböa is one of the most perffect pieces of art that has been created!...
Read more
---
Hotels nearby
0.2 km away
---
83% recommendation
0.3 km away
Guests praise:
room cleanliness, good knowledge of foreign languages, friendly staff
---
0.4 km away
---