A place travelers can visit Albena Beach
Reviews: Albena Beach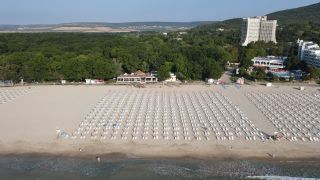 General description: Albena Beach
Albena Beach

Albana Beach ison the northern coast of Bulgaria. It is a Blue Flag resort on the coast of the Black Sea.
The international airport of Varna is just 30 kilometers away.
Seaside holidays are sure to be enjoyed between the months of May and October.
No matter if you are looking for a nice day on the beach, entertainment, night life or sports, Albena Beach has it all.
Activities at Albena Beach


Swimming pools
Bowling Alley

Water skiing

Boat-driving

Banana boat rides
Para-sailing

Yachting

Surfing

Jets
Underwater fishing

Tennis
Mini Golf

Riding

Beach Volleyball
Aerobics
Etc.

Climate
The climate at Albena beach is a sea climate with clean air. The average temperature is around 12 Celsius. In the summer the average is between 29 and 32 Celsius.


May and September: 20-25 Celsius
April and October: 15-19 Celsius
---
Hotels nearby
90% recommendation
0.4 km away
Guests praise:
size of the bathroom, Size of the rooms, beautiful beach, good knowledge of foreign languages, good room amenities
---
78% recommendation
8.2 km away
Guests praise:
Proximity to the beach, good room amenities, cleanliness in restaurant, Size of the rooms, room cleanliness
---
85% recommendation
8.3 km away
Guests praise:
Proximity to the beach, Size of the rooms, entertainment in the area, shopping facilities in the area, nice restaurant
---