A place travelers can visit Nazi Party Rally Grounds
Reviews: Nazi Party Rally Grounds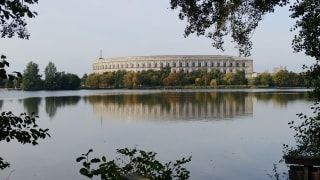 General description: Nazi Party Rally Grounds
Unfortunately, "Nazi Party Rally Grounds" does not yet have a general description. Your valuable travel experience is needed. Help other guests by providing objective and detailed information.
9 reviews Nazi Party Rally Grounds
Part of it - The Colosseum of Nuremberg
Man can build great things , regardless of the purpose that this was supposed to serve , this is a great achievement by any means!! The Great Street and the Colosseum stand memory to the dream of glory that a single man imposed upon a nation. The street with its granite stone pavement is in itself a grand achievement , than the Colosseum with it's 39 meter tall building and it's massive size is a true engineering achievement. You can walk around it , there are walkways and you can get in the courtyard to see the ruin of the dream once gl...
Read more
---
Hotels nearby
93% recommendation
0.7 km away
Guests praise:
nice swimming pool, smooth check-in/check-out, friendly staff, good knowledge of foreign languages, Size of the rooms
---
0.7 km away
---
98% recommendation
1.2 km away
Guests praise:
professional staff, good food, varied food, cleanliness in restaurant, room cleanliness
---