A place travelers can visit Flamingo Cafe
Reviews: Flamingo Cafe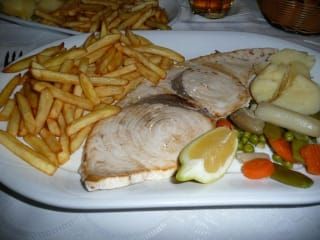 General description: Flamingo Cafe
Unfortunately, "Flamingo Cafe" does not yet have a general description. Your valuable travel experience is needed. Help other guests by providing objective and detailed information.
1 Pictures: Flamingo Cafe
Flamingo Cafe
by Ute-Maria
in August 07
Picture rating: 3.5
4 reviews Flamingo Cafe
Flamingo Bar Cafe
Always call in at the Cafe Flamingo on my way from Benalmadena to Mojacar for my short breaks. The lunch there is one of the highlights of my trip. The food is really good and the service quick and friendly. I select a main course and get also a starter free of baguette, butter and pate. Usually I buy a couple of large beers and get the free offer of a local brandy and some chocolates and biscuits. Its all good food and good value. The seating outside give an interesting view in any but the worst weather. Really good place, do try it.
Read more
---
The best in Roquetas
We have been coming to flamingo since 2008. They are the nicest people in roquetas. They make you feel a million dollars, nothing is too much trouble to them. The only thing is that they give you too much food, so make sure you are hungry when you pay a visit. Hello Luis and thank you for all the lovely times. Wont see you this year but keep up the good work.
Read more
---
Hotels nearby
75% recommendation
0.4 km away
---
77% recommendation
1.3 km away
Guests praise:
Proximity to the beach, beautiful beach, Disabled-friendly, smooth check-in/check-out, good knowledge of foreign languages
---
98% recommendation
2.0 km away
Guests praise:
good knowledge of foreign languages, friendly staff, Proximity to the beach, family-friendly, smooth check-in/check-out
---