A place travelers can visit Guide Ketut Sudiasa Sanur Excursion
Reviews: Guide Ketut Sudiasa Sanur Excursion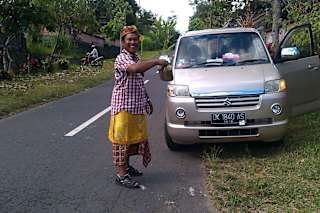 General description: Guide Ketut Sudiasa Sanur Excursion
Unfortunately, "Guide Ketut Sudiasa Sanur Excursion" does not yet have a general description. Your valuable travel experience is needed. Help other guests by providing objective and detailed information.
7 reviews Guide Ketut Sudiasa Sanur Excursion
Not recommended for single female travelers
What happened while staying at Ketut Sudiasa's farm in January was/is inexcusable. I do not recommend Ketut as a host nor a guide. He breached my trust, and took advantage of me in several ways including sexually (he does not take no for an answer). He also spoke derogatorily of the last single female guest who stayed on his farm just before me, and who I assume is the woman who posted the complaint in German (same time frame). Ketut Sudiasa seems like a nice, likable fellow but that is a facade for his real personality. Ladies beware.
Read more
---
Hotels nearby
80% recommendation
0.1 km away
---
0.8 km away
---
94% recommendation
0.9 km away
Guests praise:
Proximity to the beach, good knowledge of foreign languages, friendly staff, entertainment in the area, good room amenities
---