A place travelers can visit Harbor Agios Nikolaos
Reviews: Harbor Agios Nikolaos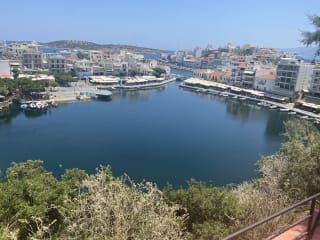 General description: Harbor Agios Nikolaos
Unfortunately, "Harbor Agios Nikolaos" does not yet have a general description. Your valuable travel experience is needed. Help other guests by providing objective and detailed information.
19 reviews Harbor Agios Nikolaos
Not just another Harbor
Agios Nikolaos itself is such a nice and quiet place , I have enjoyed the few hours walking arround the streets of the harbor. You can reach Agios Nikolaos from the sea for example you can take a boat in Elounda bay and you can reach Agios Nikolaos in like 1 hour / 1 hour and 15 minutes. This boat trip if you purchase it from the locals can be a real bargain arround 10 euro or less , but if you get it from a travel agency they can charge you up to 20 - 25 Euro per person. Once you arrive in the harbor itself you can walk arround the pie...
Read more
---
Hotels nearby
0.1 km away
---
0.2 km away
---
0.2 km away
---