A place travelers can visit Van Gogh Museum
Reviews: Van Gogh Museum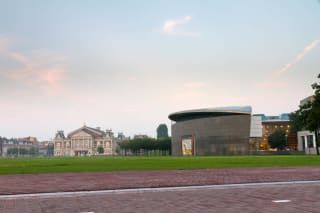 General description: Van Gogh Museum
The state-owned
Van Gogh Museum
contains the world's largest collection of works by this famous artist.
A troubled genius
The collection is so large owing to the rather regrettable fact that
Vincent van Gogh
(1853-1890) sold next to no paintings during his lifetime. The works remained within the family which then bequeathed the 205 paintings and 500 drawings to the museum in 1963. The exhibition tracks the painter's turbulent and tragic life from its beginnings in the Netherlands, through his time in Paris and the South of France, up to his death in Auvers-sur-Oise. Alongside self-portraits and a version of the "Sunflowers", highlights also include "The Potato Eaters", the "Yellow House", the "Bedroom" and the "Cornfield with Crows". Works by other painters from the 19th and 20th centuries are also on display. Beside this museum there is a three-storey pavilion which, designed in 1973 by Gerrit Rietveld and opened in 1999, is connected by an underground passage to the museum, and hosts temporary exhibitions of art contemporary with Van Gogh's lifetime.
Visiting the Van Gogh Museum
Opening times
Daily 10am - 6pm (Friday 10pm)
Admission
Adults: €14
0-17 yrs: Free
I amsterdam City Card holders: Free
Finding the Museum
The Museum is on Museumplein, between the Rijksmuseum and the Stedelijk Museum. The Entrance is at Paulus Potterstraat 7.
From Central Station in Amsterdam options: tram 2 (towards Nieuw Sloten) or 5 (towards Amstelveen Binnenhof) to the Van Baerlestraat stop.
From Station Amsterdam Zuid/WTC options: tram 5 (towards Central Station) to the Van Baerlestraat stop.
Other options: You can also take tram 3 or 12 to the Van Baerlestraat stop & trams 16 and 24 or bus 145, 170 or 172 to the Museumplein stop.
Website: www.vangoghmuseum.nl


Here one can see the world's biggest collection of works by the creator of the "Sunflowers".

---
Hotels nearby
0.1 km away
---
0.1 km away
---
0.1 km away
---