A place travelers can visit Desert safari
Reviews: Desert safari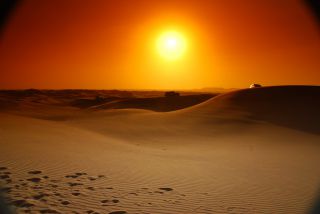 General description: Desert safari
Dubai Desert Safari
A jeep tour through the desert is an absolute must! It is not a cheap trip but highly recommended. It is quite usual to book it through your hotel and then go in a group aof around 6 people. It's aquite a long drive to get from the hotels in Dubai to the place where the tour starts but you should make it in time to watch the sunset in the desert which is a really unique and enjoyable experience.

Activities on a desert safari
The desert safaris also include the opportunity of visiting a"Bedouin village" and going camel riding, sand boarding and having henna tattoos. Refreshments and drinks are usually already included in the price, but make sure you check in advance. Other entertainment often includes bellydancing, wearing Bedoin robes and smoking shisha.


Price: A whole day tour cost approx $ 100 per person but the rpice depends on your bargaining skills and what#s included.
---