A place travelers can visit Empire State Building
Reviews: Empire State Building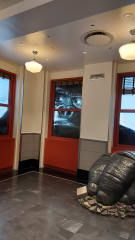 General description: Empire State Building
The Empire State Building
has starred in many a Hollywood blockbuster including King Kong, Independence Day, Sleepless in Seattle and Godzilla. It stands on 350th Avenue between 33rd and 34th Street in Midtown Manhattan. There are 1,850 steps from the bottom to the 102nd floor. Don't worry, they have a lift!
Ticket Prices for the Empire State Building
(September 2011)
Observatory on the 86th floor


Adult: $22.50

Child(6-12): $17

Senior(62+): $20

Express Pass
86th and 102nd Floor


Adult: $39

Child(6-12): $33

Senior(62+): $37

86th and 102nd Floor Express Pass


Audio Tour: $7.50

Souvenir Map: $7.50

See & Hear Combo: $12



New York City Pass gives you free entry up to the Observatory on the 86th Floor.

Look out for ticket discounts in Hotel Brochures
Take a book because you may wait quite long
Since the destruction of the World Trade Centre the traffic to the Empire State Building has dramatically increased as visitors search for a good view of New York. This means there are more visitors than capacity and waiting times for a lift are often around 2 – 3 hours. On the platform itself you can't stay still but have to keep moving in a circle to keep a continues flow of people arriving and leaving.
The Rockefeller Center as an alternative to the Empire State Building
From the Top of the Rock observation tower at the Rockefeller Center you have a much better view, including Central Park and the Empire State Building, with far fewer people.
---
90 reviews Empire State Building
Wonderful experience
What a fantastic experience. Not just the history of the building, but the views that you get of lower Manhattan.
Read more
---
OMG!
The view of Manhattan at night from a skydeck at The Empire State Building is something that you can not describe with words. It should be on everyone's bucket list :)
Read more
---
Well worth the Queues
Amazing views of New York. Well worth the wait and queueing. I would also recommend visiting The top of the Rock, so you can see the Empire State Building as well.
Read more
---
Hotels nearby
95% recommendation
0.1 km away
Guests praise:
good position for excursions, shopping facilities in the area, entertainment in the area, smooth check-in/check-out, friendly staff
---
96% recommendation
0.1 km away
Guests praise:
good position for excursions, shopping facilities in the area, entertainment in the area, Leisure opportunities in the area, room cleanliness
---
96% recommendation
0.1 km away
Guests praise:
good position for excursions, shopping facilities in the area, smooth check-in/check-out, room cleanliness, friendly staff
---