A place travelers can visit Souk Taroudannt
Reviews: Souk Taroudannt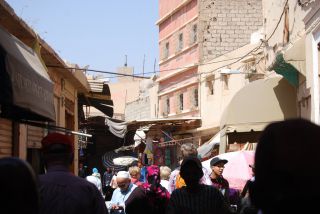 General description: Souk Taroudannt
Unfortunately, "Souk Taroudannt" does not yet have a general description. Your valuable travel experience is needed. Help other guests by providing objective and detailed information.
6 reviews Souk Taroudannt
Taroudant Souk
We were taken on a guided tour of Taroudant Souk. All the food was crawling with flies, and we had to keep our mouths shut so we did not swallow them. We saw grapes, dates, everything, just a mass of flies. One area of the market was devoted to making furniture, the air was full of choking wood dust. Another area arc welders were being used with no shields. And an area selling secondhand mattresses, it looked as though someone had died on one of them quite recently. And open areas of bags of rubbish everywhere. We were given free time at th...
Read more
---
Hotels nearby