A place travelers can visit Uxmal archaeological site
Reviews: Uxmal archaeological site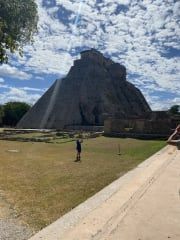 General description: Uxmal archaeological site
Uxmal
built in 600-900AD is one of the most important sites of the Classical era. Located around 80km south of Merida this world heritage site is one of the most visited attractions in north Yucatan.
House of the Magician - Pyramid built in one night
Uxmal thrived during the 7th - 10th Century AD and was the greatest religious and metropolitan center in the Puuc hills. The most impressive structure at a magnificent 100 feet high is the House of the Magician. The legends say it was built in one night by Itzamna. Other houses include; the Nunnery, the Governor's Palace, the House of Turtles, the House of Old Woman amongst others.
Visiting Uxmal
Uxmal needs a few hours to be explored thoroughly. The site is opened 365 days a year.
The Light and Sound Show (45 min - 1 hour) takes place at 7:00 pm every night during Autumn and Winter and 8:00 pm during Spring and Summer.


Entrance Fees
Adults: 166 pesos 116 (Mexican nationals)

Children (under 13): 5 pesos
Light and Sound show included in price.

More info available at: http://yucatantoday.com/en/topics/uxmal
---
Hotels nearby
100% recommendation
1.4 km away
---
1.4 km away
---
85% recommendation
1.8 km away
Guests praise:
Size of the rooms, room cleanliness, good room amenities, size of the bathroom, smooth check-in/check-out
---