A place travelers can visit Coit Tower
Reviews: Coit Tower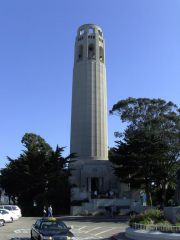 General description: Coit Tower
Coit Tower
was designed in order to beautify the city of San Fransisco with money donated by Lillie Hitchcock Coit in 1933. The Art Deco tower was designed by Arthur Brown Jr, and Henry Howard.
Views from the Tower
The Coit Tower offers fantastic views over San Fransisco which can especially be recommended at sunset. The fee is only $5 and it's definitely worth the visit. You can spare yourself the charge if you want as the tower is on a hill which already offers great views of the city.


For more information see: http://www.inetours.com/Pages/SFNbrhds/Coit_Tower.html
---
Hotels nearby
0.5 km away
---
0.6 km away
---
100% recommendation
0.7 km away
Guests praise:
good position for excursions, entertainment in the area, friendly staff, good knowledge of foreign languages, smooth check-in/check-out
---