A place travelers can visit Kennedy Space Center
Reviews: Kennedy Space Center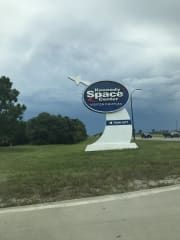 General description: Kennedy Space Center
Unfortunately, "Kennedy Space Center" does not yet have a general description. Your valuable travel experience is needed. Help other guests by providing objective and detailed information.
39 reviews Kennedy Space Center
Mixed feelings
... I would pay 100 or 150 if needed. Besides that, Kennedy Space Center is a rip off. The base entrance fee is 50 USD ( additional 10 bucks for parking). Most of your time you will spend in KSC Visitor Center - kind of amusement park with some space exploration artifacts. Your kids will love it, you may not. However, things will change when you reach Space Shuttle hangar. The Shuttle kicks ass since it's cargo doors are open and one can see how it;s cargo bay looks like. If you are old enough you can even experience a ultra-realistic Shuttle ...
Read more
---